by: Brett Hershman, Benzinga Staff Writer
A recent report from the NPD Group shows three businesses captured at least 84 percent of American's business in 2016.


The 3 Leaders

Of all the companies including in the report, Wal-Mart Stores Inc WMT captured the highest percentage of American business, with 95 percent of Americans buying from the company at least once a year.
McDonald's Corporation MCD came in at No. 2 with 89 percent of American buyers. Target Corporation TGT rounds out the top three at 84 percent.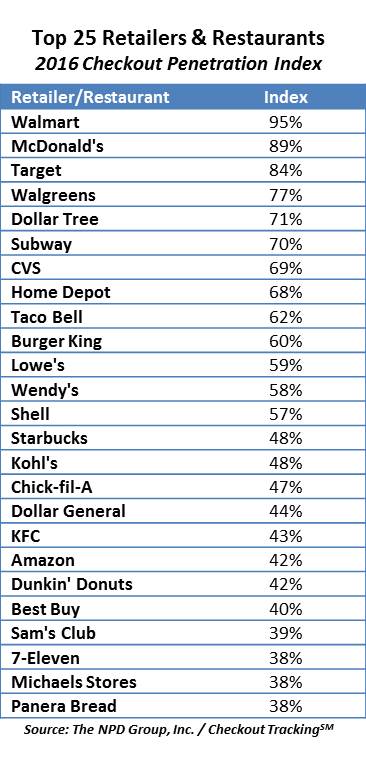 Checkout Penetration Index

The report comes from checkout tracking data from the checkout penetration index and confirms that these three retailers have "become fully woven into American life — reaching an extraordinary percentage of buyers at least once a year." The index is based on millions of receipts from actual transactions across all retailers and restaurants, both online and in brick-and-mortar.


Strong Performances Of Note

The restaurant with the biggest percentage increase in the top 25 was Chick-fil-A, experiencing a 5-percentage-point increase in penetration in 2016, while the biggest gain in retail came from Dollar Tree, Inc. DLTR, seeing a 3-percentage-point increase. Both companies have been aggressively expanding operations nationwide.
"The battle for every consumer dollar is heating up, and we must shift from studying what consumers purchase to how they spend their money," said Marshal Cohen, chief industry analyst at the NPD Group. "Consumers spending on experiences is overlapping with their purchases of products, making every item and visit so important to competing in today's rapidly changing marketplace."
Image Credit: By MikeMozartJeepersMedia – Own work, CC BY-SA 3.0, via Wikimedia Commons
© 2017 Benzinga.com. Benzinga does not provide investment advice. All rights reserved.